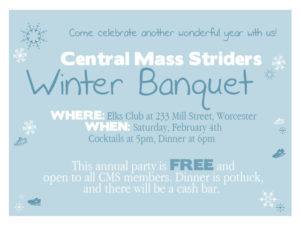 CMS WINTER PARTY!
When:
Saturday Night, February 4th, Cocktails and set up 5:00PM
Dinner starts at 6:00
Where: ELKS Club, 233 Mill Street, Worcester
Cost:

Free members and family

Dinner: Pot luck (see below)

Cash Bar with Music and Dancing till midnight
Don't stress over the pot luck format. Here are the rules:
1. There is always too much food, so if you find yourself without any ideas on Saturday afternoon, get in the car and come anyway!
2. No time to cook? Why not pick up something on the way? Stop at the market and pick up something. A cake maybe? Cookies? Whatever. Or maybe bring a Pizza? Something form a nearby restaurant? Chinese food? Anything will do!
3. Have some fun preparing for this. Are your ancestors from Kazakhstan? Bring a native dish. Something only Borat would love is sure to make for great conversation!
You get the idea. With just a tiny bit of planning, this will be a blast!
Here's how we balance out dinner and desserts. If your last name begins with the letter A thru L, bring an entrée, M thru Z bring an appetizer or dessert. If you think this is stupid, bring whatever you want! But whatever you do, make sure you get in the car and bring your butt to the party. It only happens once a year. We don't want you to miss out!